An innovative partnership between the London Borough of Brent and Velocity has been shortlisted for the industry's Highways Awards.
Organised by Highways Magazine, the annual awards celebrate the best practices from local authorities and the supply chain.
Shortlisted in the Highways Maintenance Efficiency category, Velocity's work with Brent involves an ambitious project to carry out preventative maintenance on every residential street in the borough.
To manage the network, Brent Council's Highways Asset Management Planning (HAMP) provides a systematic long-term methodology for maintaining the borough's highways.
The HAMP approach delivers better value for money through the adoption of a sensible and forward-thinking maintenance plan.
As part of this approach, additional preventative maintenance programming was introduced using spray-injection patching. Specifically, unclassified roads were targeted, with 18% of roads requiring maintenance, contributing 80% of the total length of the network.
To deliver this, Brent Council worked in partnership with spray-injection patching specialists Velocity, initially proving the suitability of the technique for wide-scale usage in urban environments, followed up with an extensive programme this year and next.
The benefits of Velocity's method can be best exploited by maximising output through minimising travelling time between repairs. Brent used their asset management system in an innovative way, using asset data already collected to identify locations with the highest density of defects.
Using Yotta's Horizons visualised asset management software together with data collected during highway inspections, Brent developed a risk-based approach to inform highways maintenance programmes and efficiently repair defects.
Through asset and condition data capture, the council is using the Horizons software platform to provide it with operational insights for patching maintenance programmes, helping to focus on the most dangerous 'pothole hotspots' and tailor road repairs according to where on the network the defect is.
Brent can analyse where the density and risk associated with potholes is highest and prioritise the most effective repair locations, with Velocity carrying out pre-inspections to advise on preventative repairs suitable for spray-injection patching and identify any anticipated site issues. Furthermore, traffic management and any potential issues are identified in advance, maximising productivity.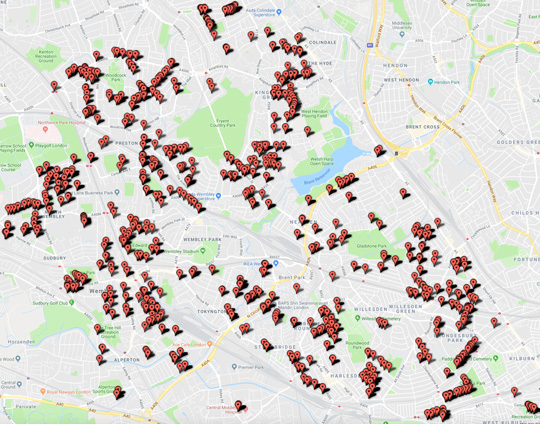 In doing so, the speed and efficiency of the delivery of work is accelerated, maximising the productivity of the machines and crews and improving the network significantly quicker for residents, minimising disruption.
In the first year of the programme, Velocity have repaired over 25,000 defects, equivalent in area to almost two football pitches, achieving four times as much for the budget versus traditional excavate and fill techniques.
The partnership between Brent Council and Velocity is delivering on Brent's objective to reduce the number of visible defects, improve the overall feel of the local environment, improve satisfaction levels among residents and businesses, and reduce the volume of customer reports and complaints received by the Highways and Infrastructure department regarding the condition of the carriageway.